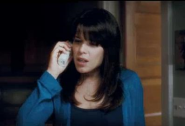 Sidney Prescott is the main heroine and protagonist of the
Scream series
. She is also the daughter of Neil and
Maureen Prescott
, the cousin of
Jill Roberts
,
Melinda Roberts
,
Belinda Roberts
,
Hannah Roberts
and
Emily Prescott
, the mother of
Fifi Prescott
and
Maury Prescott
, and the half-sister of
Roman Bridger
.
Relationships
Edit
Fifi Mone-Great Friend
Ethan Carsia-Great Friend
Cami Watson-Great Friend
Natalie Carmen-Great Friend
Dewey Riley-Great Friend
Gale Weathers-Riley-Rival
Frank Nightingale-Great Friend

Emma Lloyd-Great Friend
Tatum Riley-Great Friend
Billy Loomis- Ex-Boyfriend
Sam Macher- Enemy
Samantha Mone-
Mike Mone-
Melinda Roberts-
Hayley McDonald-
Thomas Conner-
Kirk Mason-
Kirby Reed-
Kimberly Jansen-
Jessica Mitchell-
Kara Frank-
Fifi Prescott-Daughter
Maury Prescott-Son
Lisa Hills-
Brianna Albertson-
Missy Gibson-
Joanna Kyle-
Tommy Kehoe-
Colleen Matthews-
Killing Commitment
Edit
Why can't I be in a Meg Ryan movie? Or even a good porno?" - Scream
"Would you settle for a PG-13 relationship?" - Scream
"Ah, come on, you know I don't watch that shit." - Scream
"In your dreams!" - Scream
"Oh Stu, Stu. What's your motive? Billy's got one, the police are on their way, what are you going to tell them?" - Scream
"Not in my movie." - Scream
"Billy was a sick fuck just like you!" - Scream 2
"You did a BANG-UP job, Mrs. Loomis." - Scream 2
"Yeah? Well, you're forgetting one thing about Billy Loomis. I fucking killed him." - Scream 2
"Just in case." - Scream 2
"Psychos can't kill what they can't find." - Scream 3
"Think again! It's your turn to scream asshole!" - Scream 3
"Oh, will you stop your whining and get on with it?! I HAVE HEARD THIS SHIT BEFORE!" - Scream 3
"Why don't you take some fucking responsibility?!" - Scream 3
"You forgot the first rule of remakes, Jill. Don't fuck with the original." - Scream 4
"I don't know about you but I feel a whole lot better." - Scream 4
Community content is available under
CC-BY-SA
unless otherwise noted.